Giving Back: Snow Fox Skincare x Animal Rescue Shelter
Earth First: Flora & Fauna
We believe that it's important to be more than just "cruelty-free". Taking initiative to proactively help support local communities is something we dream of expanding as much as possible.
Currently, we officially sponsor the Saigon Times Animal Rescue Shelter by taking care of their monthly rent and other expenses. The Saigon Times Shelter is a wildlife rescue that houses over 100 dogs, 100 cats and various trafficked wildlife from Vietnam's borders. There's a monkey, water dragons, exotic birds and even prarie dogs that have been stolen from directly from jungles or imported then abandoned due to viral pet trends.
Many of the dogs are also rescued from abusive owners or slaughterhouses and bear severe injuries. Dog meat is still eaten in Vietnam, so there are active slaughterhouses that steal, mass breed or even traffic dogs from Thailand.
A Shared Mission
Saigon Times Shelter is run by Mimi (on the far right) and her husband, who have dedicated their lives to take care of these animals. They gave up their wedding savings and use their cake decoration business to help finance their mission. Our founder Phoebe has adopted dogs from Mimi (that's her brother with their newly adopted husky) and continues to support Mimi whenever she can through funding, pet goods or finding families for these animals.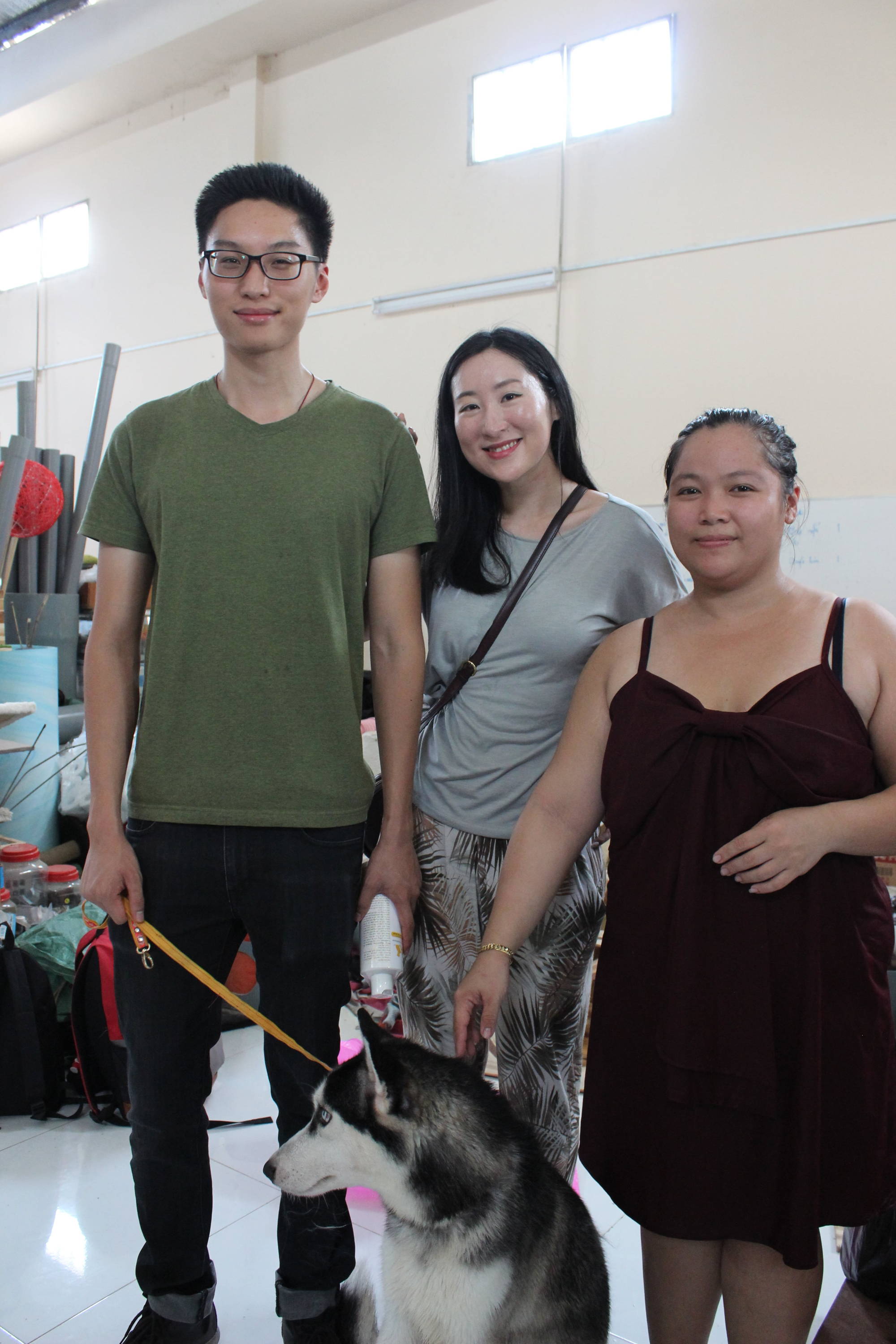 The funds come directly from sales of Snow Fox products and the Snow Fox team routinely visits the shelter to get an update on the status of the animals to ensure that everyone is doing well.
Currently, Mimi's cake business has been severely affected by the Covid-19 pandemic, so Snow Fox is working on projects to sustainably provide monthly income for Mimi and her animals. Since our sponsorship, they have been able to rescue even more animals in need.
Animal Welfare and Poverty
In parts of South East Asia, many villagers struggle with poverty and lack the resources to take care of their pets when their economic situation worsens. Due to Covid-19, a huge spike in pet abandonment swept across many suburbs in Asia - from the loss of finances to social media spread rumors about pets carrying and transmitting the virus.
While it is important not to judge affected families for abandoning their pets, the lack of education also results in extreme abuse. Several dogs in our shelter are missing limbs as "punishments" for barking or misbehaving. Abusive owners often wrongly believe that chopping off a limb is "just a lesson" to their dogs, but Mimi's team are quick to convince the owners to hand them over to her shelter instead.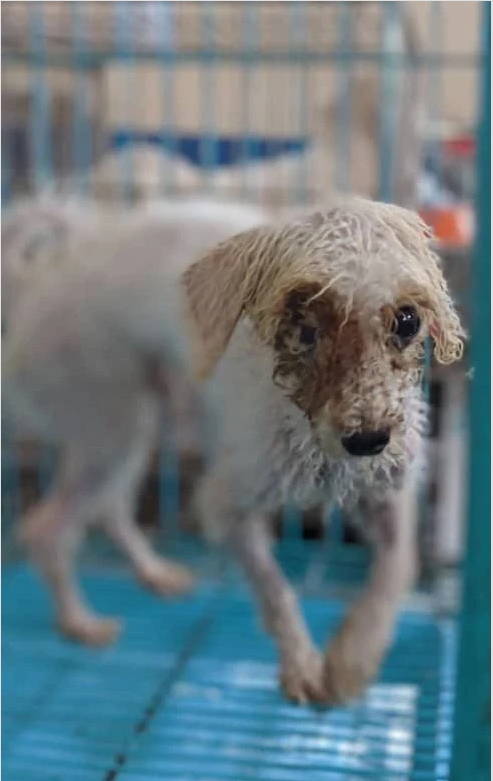 Abused, maimed or scarred dogs have a long path of rehabilitation. They are also less likely to be adopted due to their physical appearances or disabilities. The saddest part is, like this young white poodle in the picture above, many of these dogs are premium breeds that cost a lot to purchase or import in the first place. The lack of awareness of animal rights and welfare is a problem that many countries face, but by actively supporting local shelters, this is something we hope to minimize over time.
Pugs, Dalmations, Huskies and Poodles
When our team personally went to help out at the shelter, we discovered that more than half of the abandoned dogs were pure breeds that were once beloved house pets before they were dumped. In Vietnam, pure breeds can cost up to USD $1000 when they are puppies. The country's boom in wealth has created a lot of impulse buying.
Phoebe's adopted husky (now named Sparta) survived after being thrown off the back of a speeding motorcycle as his previous owners did not want him chasing them back. This cute but very sad pug was abandoned due to his old age and skin problems. Pugs are a highly owner-dependent breed, so abandonment is particularly cruel for them. Older pugs are often passed up by adopters as they show very visible signs of distress.
Wild Birds and Exotic Species
There's a variety of beautiful wild bird species in the shelter. We aren't sure of their origins, but many seemed to have been pets for a while or were raised in captivity as they cannot survive on their own or seem to seek out human interaction. It's too dangerous to let these birds fly away near the cities as bird meat is considered a local delicacy. They would need to be rehabilitated and transported into their native forest woodlands and set free, but the shelter lacks the staff and logistics to do so.
Many of the smaller birds were rescued from the game meat trade. They were meant to go into rice wine bottles, which the local don't drink but sell to tourists as novelty items. Similar "snake" wines are for sale in other parts of the world, but we hope that tourists will learn to stop buying these souvenirs as it fuels a demand for wildlife trafficking.
Phoebe is particularly fond of this owl here (nicknamed Cutie) as she loves being cuddled and will automatically climb up your arm for a snuggle. The only problem with this is that Cutie's claws are no joke and she has yet to understand that she can't just jump on our arms without the protective glove! (As Phoebe nearly found out the hard way).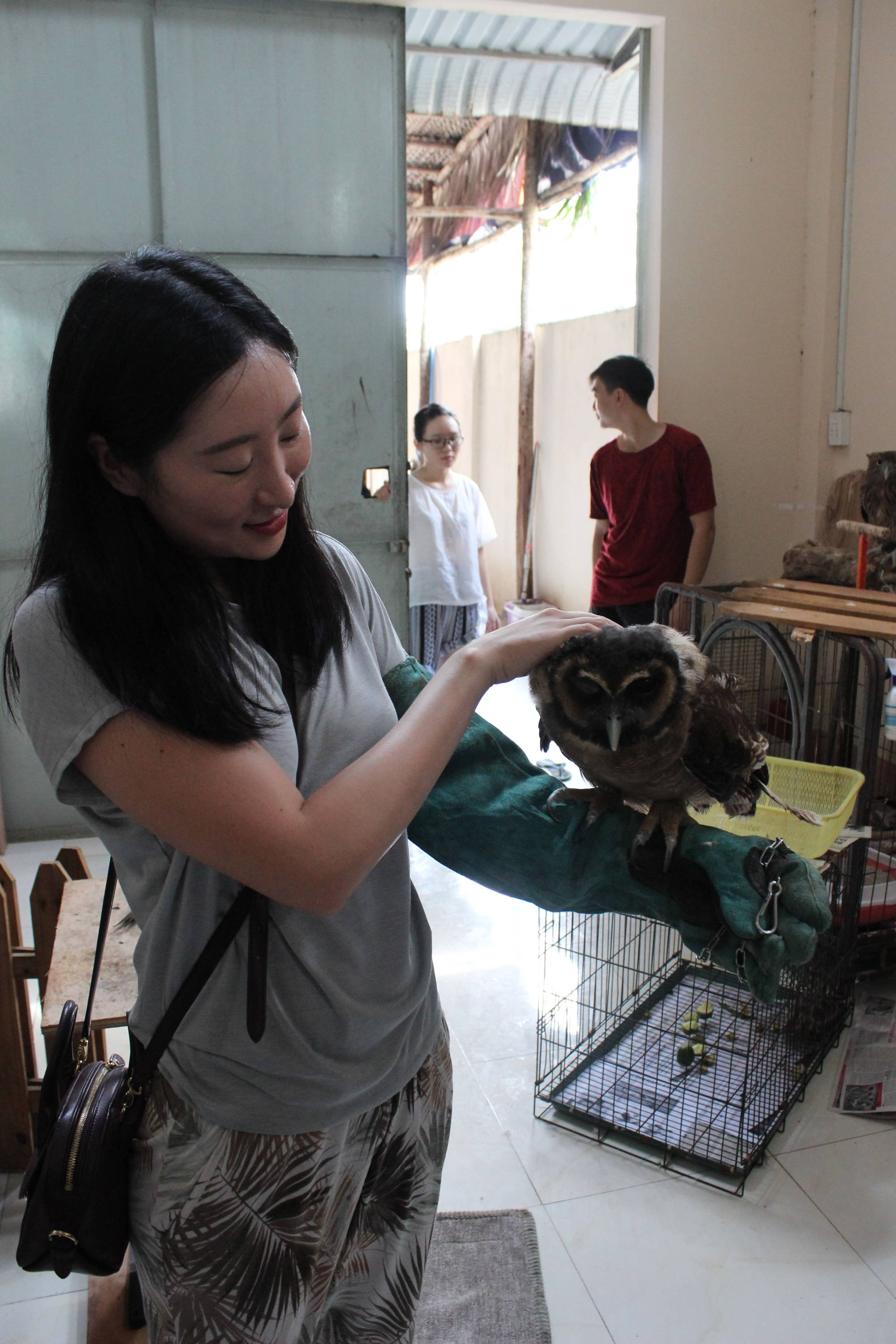 Adoptions
If you'd like to adopt from this shelter or donate directly, please contact us. Feel free to ask any questions and learn more about the Saigon Times Shelter.
(Overseas adopters are welcome).
---